Government ministers have said a project on farmland in the borough is among those to be tested as part of a £ 4.5million scheme to investigate the viability of the methods of elimination of greenhouse gases.
Amanda Solloway, Parliamentary Under Secretary of the Department of Business, Energy and Industrial Strategy, confirmed the program was part of the program after she was asked in the House of Commons if a shortlist had been established or identified projects.
She said: 'As part of the UK Strategic Priorities Fund for Research and Innovation (UKRI) Greenhouse Gas Removal Demonstrator Program, research teams across the UK United will study the viability of five innovative methods of large-scale removal of greenhouse gases (GHGs) from the atmosphere. in demonstration projects of up to £ 4.5 million.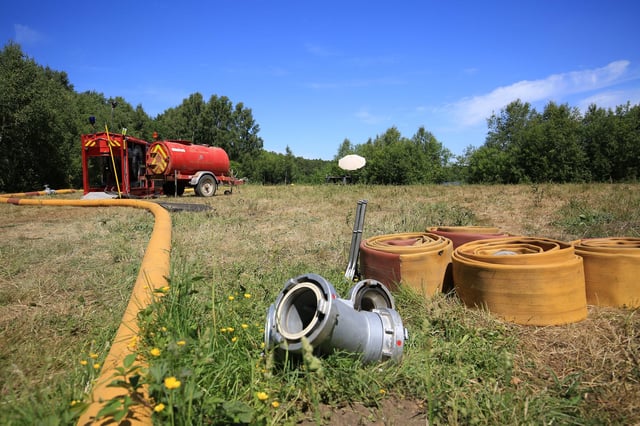 Hatfield Moor fire, Tuesday June 2, 2020. Water pumps. Photo: Chris Etchells
"Together with a steering center led by the University of Oxford for the program, these investments aim to help the UK meet its net zero climate target by law by 2050.
"These five GHG Removal Demonstration Projects (GGRs) will study:
"Peatland management to maximize their potential for GHG removal in agricultural land near Doncaster and at sites in the South Pennine Highlands and Pwllpeiran, West Wales;
'Rock weathering enhancement – crushing of silicate rocks and particle diffusion at field test sites in farmland in central Wales, Devon and Hertfordshire;
"Using biochar, a charcoal-like substance, as a viable method of carbon sequestration. The tests will take place at arable land and grassland sites in the Midlands and Wales, a sewage disposal site in Nottinghamshire, former mining sites and railway embankments;
"Large-scale tree planting, or afforestation, to assess the most efficient species and locations for carbon sequestration at sites across the UK. It includes land owned by the Department of Defense, the National Trust and Network Rail;
"Rapid intensification of perennial bioenergy crops such as grasses (Miscanthus) and short rotation coppiced willow at sites in Lincolnshire and Lancashire.
"The demonstrator projects have already been chosen and notified.
The results will be used to shape the government's long-term decision-making on the most efficient technologies to help the UK tackle climate change and reduce CO2 emissions.
In these confusing and disturbing times, local journalism is more vital than ever. Thank you to everyone who helps us ask the questions that matter when subscribing or buying a newspaper. We are all fighting together. Liam Hoden, editor.